Beauty salons

Healthy lifestyle

Plastic surgery

Tattoo salons

Spa and Massage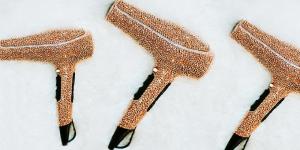 This Crystal Hair Dryer Is Ridiculously Expensive, But the Money Goes to an Amazing Cause
11.12.2017
Just GUESS how much this Swarovski hair tool will cost you.
If you really want to treat yourself and have the most luxe blow-dryer ever, you can now own a Swarovski-embellished hair dryer courtesy of the hair blowout concierge service, Prête. The brand calls it the most luxurious blow-dryer in the world and with good reason — it has around five thousand Swarovski crystals and costs only $10,000.
But if that price made you gasp (or cry about your bank account), there are some great benefits that come with this huge purchase.
Any buyers will receive a year of UNLIMITED blowouts, and, even better, 100 percent of the proceeds are given to the Humane Society to help fight against animal testing and abuse. It's definitely an investment, but whoever buys it can think about their good deed while giving themselves the most fabulous blowout. Truly a win-win IMO.